The Loxton Show is an annual event on the October Long Weekend each year which brings people from all across the Riverland together to celebrate the agricultural and horticultural heritage of the region. The Show caters for its patrons with many exciting sights, including livestock, grain and fodder, handicrafts, gardening, competitions, vintage machinery, specialty trade sites, sideshows, live entertainers and Show rides.
The Loxton Show is open to the public from 8.30 am on Sunday 1stOctober and 8.30 am on Monday 2nd October.
Tickets can be purchased at the gates at the following 2022 prices:
Adult: $15.00
Student/Pensioner: $10.00
Child: $5.00
Family: (2 adults, up to 3 children): $35.00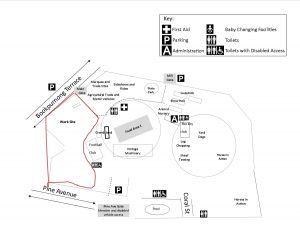 Click here to enlarge the Show Grounds map.
One major aspect of the Show is the exhibits. Amateur hobbyists from far and wide are invited to exhibit their work in a variety of interest areas. A full list of the classes available to exhibitors is available here or a printed copy can be collected from a number of stores around the Riverland. Many Section and interest areas provide 'novice' classes for first-time exhibitors. Entry forms can be downloaded from here.